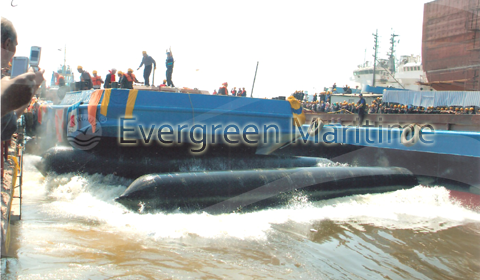 Pioneer and Leader
As a world's leading manufacturer of marine airbags, Evergreen marine airbags are used around the world in more than 500 shipyards or companies in more than 50 countries. All Evergreen Maritime ship launching marine airbags are manufactured and tested comply with ISO 14409 "Ships and marine technology - ship launching airbags", certificated by CCS.
Ship Launching Airbags, also known as roller bags or ship launching balloon, are made of heavy-duty synthetic-tire-cord layers with inner and out rubber layers in long cylindrical balloon shape. Ship ...

[caption id="attachment_535" align="alignright" width="160"] Marine Salvage Airbags in use[/caption] Marine salvage and refloatation is another application of ship launching marine airbags after u...

Evergreen Maritime high-pressure heavy lifting airbags are the toughest large pneumatic lifting bags for the huge structure, concrete caissons lifting and moving. Evergreen Maritime's Hight-pressur...