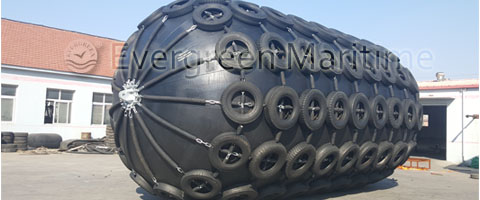 Evergreen Maritime concluded the contract of China's largest Pneumatic Rubber Fender Φ4500x9000L.
As one of the world's leading manufacturers of Pneumatic Rubber Fenders, Foam Fenders and Marine Airbags. Evergreen's systems operation's manufacturing and development facilities, including a state-of-the art engineering and design center, offer an innovative product range and an unrivalled service, catering to the unique needs of the different stakeholders in the industry, including port owners and operators, contractors and consultants, ship owners and operators, and shipyards. Eversafe Marine, the independent engineering company is focusing on the service of consulting & designing and on-site operations for Ship's Launching and Hauling-out by Evergreen marine airbags as well as rubber fenders' installtions. Evergreen Pneumatic Fenders comply with ISO 17357 requirements for consistent performance and its diameter can be up to 4.5 meters because of the China's largest vulcanizing boiler of 5.0 meters diameter. Apart from its' own brand of manufacturing Rubber Fender Systems, Evergreen is also offering OEM Service for those big clients globally recognized.
Recently, Evergreen Maritime won the contract of 3 pieces Floating Fenders of 4.5 meters diameter and 9 meters from BAYU MARITIME GROUP, South Asia. BAYU MARITIME GROUP is an offshore company specialized in the ship operation and vessel agency, serving the Oil & Gas industry since 2011. It mainly provides accommodation work barge (with pedestal crane, helideck), tug boats, landing crafts, crew boats, utility vessels, anchor handing tug and supply vessel, diving support vessels, harbour tugs, and platform supply vessels. It is growing with amazing rapid development who has been considered as the biggest accommodation work barge (AWB) owner and operator in Indonesia.
Evergreen Maritime participates in the Tenders as per request as well. As a famous manufacturer, Evergreen guarantees inspection and quality control at each stage of the manufacturing processes in terms of rubber materials and the synthetic tyre cord reinforcement. The capability of lowering delivery cost and its trustworthy business attitude have brought about the good result that Evergreen has become the reliable supplier.
" The dificulity during the production of 3 pieces Pneumatic Rubber Fenders is moving the Fender body to vulcanizing boiler from workshop," Said by Mr. Pen Sui, the production manager of Evergreen Maritime, finally under the unremitting efforts of the whole production team, the Heavy Truck Systems solved the problems, which is very helpful for improving the confidence of clients. The production of 3 pieces Fenders only cost 20 days to complete in order to satisfy the clients to the utmost, and the tests of tightness, performance and ultimate pressure were rigorously carried out to be even better than the standard requirements.
The 3 pieces Pneumatic Fenders will be installed at two sides of the big barge for the purpose of better protecting the Hull. This installation is one of the wide applications of Fenders. Evergreen Maritime is as always, showing his advantages on supplying bigger diameter Fenders for the docking of big vessels & barges and piers construction.