At Eversafe Marine Engineering, our people have unrivalled experience and understanding of the ship launching and landing operation, marine salvage and refloatation, heaving lifting and transport, and marine fendering system.
Eversafe Marine Engineering is a leader in the technology and project operations of ship launching marine air bags, in offshore solid buoyancy and marine fendering system. Providing cost effective & high-performance solutions and excellent quality products for your projects, on time and on budget, is why we are here.
We offer total pack for ship launching with marine air bags around the world to help customer to save time and money. Each month more than 5 vessels are launched by our team. From Singapore to Tunisi, we served 20 countries and more than 150 clients for ship launching or docking projects.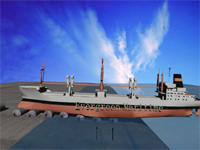 Marine airbag ship launching technology is often criticized for its weakness of support theory. Eversafe got a powerful research team to complete the theory system and developed simulation software to verify thecalculation of airbag launching. We got advantages that can verify our calculation by measuring real launch projects. Our calculation file for a new built cargo ship was approved by CCS.
For port construction, Eversafe can provide clients innovative solution for caisson moving and launching which can save customer's 60% budget and also time. This solution need no regular rail way or heavy instruments even submersible barge. By marine airbags caisson can be moved and launched easily so caisson fabrication factory can be built near port or any convenient place.
Eversafe Marine engineering Company is specilized in fender system design especially can design according to customers' specific demand. As the subsidiary of Chinese best boat fenders manufacture, Qingdao Evergreen Maritime, we know most of fenders, we know what is the best fender system for clients. Our design for CNOOC oil platforms' fender systems was highly praised by clients.
Over the years, the collected skills and experience of our personnel,past and present, have added to the cumulative knowledge base that informs everything we do. Eversafe has a track record of developing innovative, cost-effective solutions for the needs of its clients.We manage complex, dynamic projects using our team's wide ranging skills across multiple disciplines. Our project managers are able to draw on a large pool of proven talents wherever necessary to meet our clients' goals, allowing us to stay on schedule and on budget.
As the first international engineering company in this industry, with worldwide employees and partners, Eversafe can confidently supply the superior solutions through the entire process, from project design, installation, operation, and training.
To get more information, please kindly visit Eversafe Marine Engineering.